In May and June, Bitcoin sustained multiple consecutive rejections at $10,000.
Every time the cryptocurrency surpassed that level, the rally was quickly stopped by sellers. The chart below 

from

Blockroots founder Josh Rager depicts this trend well.
Chart of BTC's price action over recent months by Josh Rager (@Josh_rager on Twitter). Chart from Tradingview.com
Bitcoin may soon hold above $10,000, however, with analysts observing new evidence suggesting an imminent rally.
[b]Bitcoin Fractal Predicts An Imminent Rally Past $10,000

[/b]
Bitcoin is trading in line with a Nasdaq fractal predicting Bitcoin will soon rally past $10,000, 

according

 to a cryptocurrency trader.
In financial markets, a fractal is when the price action of an asset is seen on another time frame and/or with another asset. As Investopedia describes the phenomenon: "Fractals also refer to a recurring pattern that occurs amid larger more chaotic price movements."
The trader argues that Bitcoin will follow the trajectory the Nasdaq had after the Dotcom bubble.
This makes sense, fundamentally speaking: the Dotcom bubble, which culminated in a blow-off top for the Nasdaq, has been related to 2017/2018's crypto bubble. Both periods were marked by the caveats of investors psychology of "FOMO" and assuming price sustainably precedes innovation.
Should Bitcoin follow this fractal, BTC will rally past $10,000 in July or August. Then, assuming the trajectory the fractal depicts plays out to a T, Bitcoin will trade at around $14,000-15,000 by the end of 2020.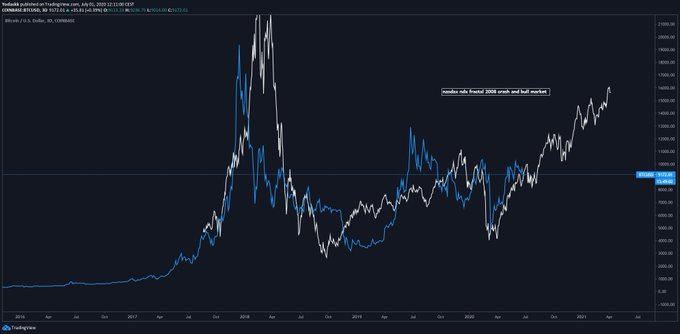 Nasdaq crash fractal observed by trader Coiner-Yadox (@Yodaskk on Twitter). Chart from TradingView.com
This fractal is in line with the analyst's other suggestion that Bitcoin may be trading in a macro Wyckoff Accumulation.
A Wyckoff Accumulation is a market schematic observed by late technical analyst Richard Wyckoff. Such accumulations are often seen when an asset bottoms, then rockets into a bull market.
The trader's analysis suggests that per Wyckoff Theory, BTC will trade around $14,000 by the end of the year.
[b]Other Trends Signal Upside

[/b]
Some may not believe in fractal analysis or Wyckoff Theory. Yet there is a confluence of other signs suggesting Bitcoin's next move may be one to the upside.
The premium of the Grayscale Bitcoin Trust over the spot market price of BTC has recently reached multi-year lows. A trader says that a low premium of GBTC shares over the spot market is something only observed near market bottoms.
Chart from TradingView.com; chart made by Byzantine General (@Byzgeneral on Twitter).
History shows that this is the case: the last time the premium was around this level was when Bitcoin bottomed at $3,200.
There are also separate analyses indicating that if Bitcoin tops here, it will be abnormal from a historical perspective.
This is because whenever Bitcoin has found a top over the past two years, the distribution at the top took merely a month. The current distribution is now two months long.